TGIF!! This week has been a long week, and was I glad to see Friday come! I didn't really feel like cooking, but we didn't have enough left overs to eat from. So, I figured this is fast and easy. I had everything cooked in 30 minutes.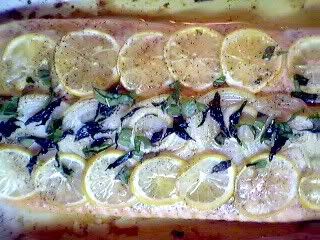 Ingredients:
1 side of Salmon fillet
1 Lemon, sliced thin
1/2 Onion, sliced thin
2 sprig of fresh basil
Ground Pepper
Kosher Salt
Olive Oil
Place the fillet of salmon in a baking dish, and sprinkle with ground pepper and about a teaspoon of kosher salt. Layer the lemon and onion slices across the fillet, as in the photo above. Take the leaves off of one sprig of basil and place leaves on top of lemon and onions. Drizzle with olive oil and sprinkle with more kosher salt.
Bake in a 400 degree oven for 30 minutes. When it is done, chop the leaves from the reserved sprig of basil and sprinkle on top of the salmon.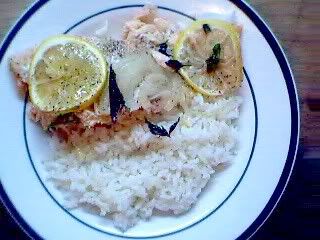 Served with garlic fried rice and green salad.