Ok, this isn't in very sequential order but mom put a link for the original home of the chicken, but here's the recipe. I did it on my own though, no one was there, hence forth the chicken was upside down until mom came home to check on it. Who knew that you were supposed to always keep the breast up? Or was it down? Hmmm….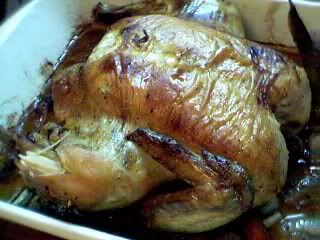 Fresh outta' the Oven
Ingredients/Materials/Equipment:
Large pan that will hold juices and support chicken
Stove and cutting board, large sharp chopping knife
1 whole chicken
2-4 whole carrots-skinned
2-4 stalks of celery
1 1/2-1 onion
2 cloves of garlic
Salt and pepper to taste
Dried herbs(prefforably chopped ones that you can just sprinkle on)
Preheat oven to 350 F.
Clean your chicken well, and place in large cooking pan. Chop celery, onion and carrots roughly in big chunks, on your cutting board. Then mince your garlic. Put veggies(not the garlic) around the chicken and inside of it as well. Sprinkle some of your herbs and garlic inside, on top and around, too. Then add your salt and pepper inside, out and around. Place in oven and cook until golden brown. Cool for about 3-5 minutes and then carve, and serve as desired.
This makes a good meal, although you sometimes can't avoid the bland middle meat but the meat that's been soaking in the juices at the bottom is really good. Hopefully it's as juicy as mine was.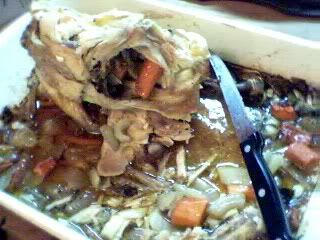 After dinner
*Remember to tie the legs together with twine to keep juicy and to cook evenly. Just remember to remove before serving.