This is my version of curried pork, which I cooked when the girls and I had a taste for a stir fried dish with plenty of vegetables. I had to cook a meat dish for my husband, who had to have meat with every meal. Not the small amount of meat in stir fried dishes, but a real meat dish, where you can see pieces of meat. I had a side of pork loin roast where I removed a couple of slices for my stir fried vegetable dish (recipe to follow) the rest, about a pounds worth, I sliced up for this recipe. By the way, the lone okra on top, is the first from my garden. I only had one as the rest haven't matured yet, so I just threw the okra in the pot during the last five minutes of cooking. No, with all the jalapeno peppers in this dish, this is not for the kids, although Jade did have a taste of it.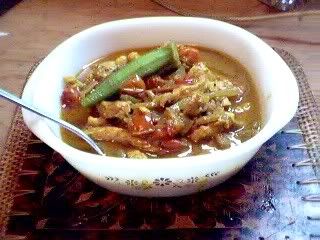 1 lb. of pork meat
1 tablespoon vegetable oil
5 cloves of garlic, minced
1 medium onion, sliced
1 cup of halved cherry tomatoes (cherry, because we have plenty from the garden)
4 small jalapeno peppers (also from our garden)
2 sprigs of basil leaves (also from our garden)
2 tablespoons of Indian curry powder
2 tablespoons of oyster sauce
1 14 oz. can of coconut milk (unsweetened)
salt and pepper to taste
Heat the vegetable oil in a pot and add the curry powder. Stir until fragrant, and add garlic and onions. Cook until onions are translucent and garlic is fragrant, then add the tomatoes and jalapeno peppers. Cook for a minute and add the sliced pork meat. Season with oyster sauce, then add the coconut milk and simmer until the meat is tender. Since I used a tender cut of meat, it didn't take but about 30 minutes of simmering. Add salt and pepper to taste, and add the basil leaves during the last ten minutes of cooking.