So it has started cooling off, and the smell of fall is in the air; and I am just plain tired of fried chicken. Another family favorite to cook and eat is this chicken and dumpling, which I have learned is a staple in southern cooking. My husband has been missing good chicken and dumpling like his grandma used to make until I came across this recipe in Southern Living magazine. He says it comes very close to his grandmother's version. The girls like to help with this dish. Since they love working with dough, they are in charge of making the dumpling.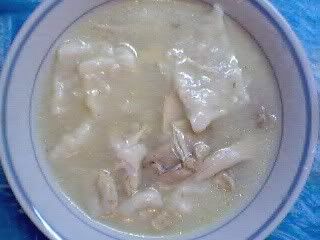 Boil in a large stock pot:
1 1/2 gal. of water
2 stalks of celery
1 onion, quartered
1 Tbsp. salt
1 whole chicken (washed and excess fat trimmed)
Boil for one hour and turn off heat. Cool, and remove chicken. Skin and bone chicken and shred into bite sized pieces.
Strain chicken broth and discard the vegetables. Put 10 cups (or more) of the broth in a large pan. Any excess broth can be saved for later use. To the strained broth add:
4 Tbsp. chicken granules (or small bouillons)
1 tsp. pepper
Shredded chicken meat
Simmer while making dumpling.
For dumpling combine:
2 cups all-purpose flour
1 Tbsp. baking powder
1 tsp. salt
1/4 cup shortening
3/4 cup milk
Combine the dry ingredients in a bowl and cut in the shortening until the mixture becomes crumbly. Add the milk and mix until moistened. Do not over mix as this will make the dumpling tough. Roll dough on a lightly floured surface to 1/8 inch thickness. Cut into 3×2 inch strips and drop 1 at a time into the boiling broth. Stir gently until all strips are added. Reduce heat and simmer for 20 minutes, stirring occationally.