This is a recipe I used to make for breakfast potlucks at work and such, before I got married. It's great 'cause you have the option of starting it the night before and putting it together in the morning.
I haven't made it in a while since my husband does most of the baking now. But since I had some blueberries in the freezer, I thought I'd try out this recipe again and see how the kids like it. I made it for our Sunday brunch last week.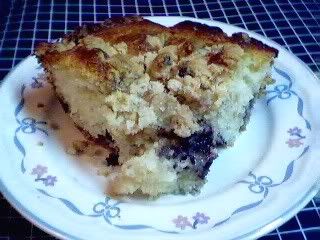 2 cups all-purpose flour
2/3 cup sugar
3 tsp. baking powder
1/2 tsp. salt
2 eggs
1 cup milk
1/2 cup butter or margarine, melted
2 Tbsp. lemon juice
2 cups frozen or fresh whole blueberries, unthawed
Crumb Topping (recipe at bottom)
Into a large mixing bowl, measure the flour, sugar, baking powder, baking soda, and salt. Stir well to blend.
Into another bowl or large measuring cup, combine eggs, milk, butter and lemon juice. Stir the liquid ingredients into the dry ingredients until blended. Pour mixture into buttered 13 x 9 inch baking dish. Sprinkle blueberries evenly over the batter.
TIP: If you roll the blueberries in flour before doing this, they won't sink to the bottom as much.
Sprinkle with the Crumb Topping and bake at 375 degrees F for 40 to 50 minutes. Serve warm.
CRUMB TOPPING
2/3 cup brown sugar
1/2 cup all-purpose flour
1/2 tsp. cinnamon
4 Tbsp. soft butter or margarine
1 cup chopped pecans or walnuts
Mix all ingredients in a bowl and stir until mixture is evenly blended and crumbly in appearance.
TIP: To prepare in advance, blend the dry ingredients the night before. Cover and let stand at room temperature. Combine the liquid ingredients and make the crumb topping. Cover both and refrigerate. The next morning mix the batter and assemble the cake as directed.