Yeay! It's the weekend, the girls are still asleep, and I can play on the computer for a while. I'll try to catch up on posting some recipes. Here is the Pork and vegetable stir fry that we had over a week ago, when I cooked the Curried Pork.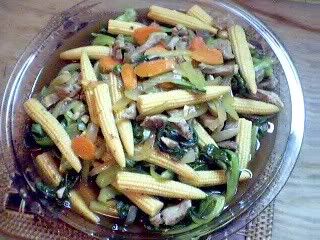 1/2 lb. pork meat, cut into strips
2 cloves of garlic, minced
1 small onion, sliced
1/2 cup celery or 1 rib, sliced
1 carrot, peeled and sliced
1/2 lb. (approximately) Pechay or baby bok choy (we got these from our garden)
1 can baby corn
2 tablespoons of vegetable or canola oil
2 tablespoons oyster sauce
1 teaspoon of cornstarch dissolved in 1/4 cup of water
Salt and Pepper to taste
In a wok (or any other pot you have), heat oil in high heat until it starts to smoke and stir in first the garlic then the onions and stir until fragrant. Add the meat and stir fry until it changes color. Add the celery and carrots and stirfry for another minute. Then add the bok choy and baby corn. Stir until the bok chow wilts and the baby corn is heated through. Add the oyster sauce and stir. If needed, add the cornstarch mixture to thicken the sauce. Add salt and pepper to taste.