We had these salmon croquettess sometime after we baked that whole side of salmon. I had to present it to the family a little differently, as they were already tired of the baked stuff and we still had a quarter of it left. Couldn't let it go to waste 🙂 My mother in law used to love salmon croquettess, but she always used canned. Aside from my occational craving for Ligo sardines, I am really not that crazy about canned fish. So most of the time, I use fresh cooked salmon for this recipe. I used to follow the recipes that called for chopped onions, bell peppers and such, but the vegetables always tasted too raw for me. So I decided to try sauteeing it first one day, and it came out pretty good! Then I added a filipino twist to it by adding tomatoes, and it has been super ever since 🙂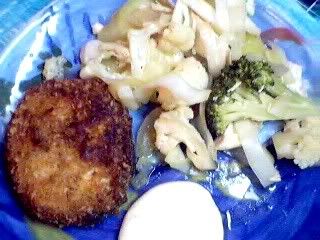 Flaked Salmon, about 3 cups
1 egg, beaten
1/2 onion, chopped
1/2 cup tomatoes, chopped
2 cloves garlic
1/2 green bell pepper, chopped
Salt and Pepper to taste
Bread Crumbs, seasoned
Oil for frying
Sautee the garlic, onions, tomatoes, and bell pepper in a bit of oil until the onions are translucent and most of the liquid from the tomatoes have evaporated. Season with salt and pepper to taste and let it cool.
When cool, add to the salmon along with the beaten egg and mix well. Form patties and roll them in bread crumbs and lay them on a cookie sheet. When done put the cookie sheet in the freezer; freeze the patties until firm. Once they have firmed up you can either fry them up or put them in a plastic bag to fry another day. This is a good way to keep the salmon from sitting in the refrigerator until it starts to grow something. Freezing keeps the patties from falling apart when you fry them. Pan fry them in a bit of oil until browned on both sides.
We usually serve these with the Thai sweet chili sauce or banana sauce, but we were out of both, so I tried the sour cream and wasabi sauce from Claudine, and it was terrific with the croquets. At least my husband and I liked it. The kids had theirs with ketchup.