One of the simplest ways to cook eggplants is to cook it simply, and this is one of the simplest ways. I had meant to cook kare-kare (oxtail stew) with eggplants, but I never got around to getting all the other ingredients and the eggplant was starting to get too old, so I thought I had better cook it. This is a simple stirfy dish, using what is already in my pantry.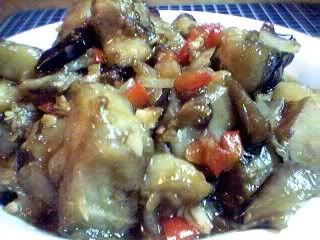 1 large eggplant (not the japanese type, the big round ones), cut into one inch pieces
1/2 red bell pepper (diced)
1/2 onion, sliced
2 cloves of garlic
1 teaspoon Ginger, minced
1 tablespoon Oyster sauce
1/2 teaspoon cornstarch dissolved in a bit of water
Oil
Peel and cut the egglants into 1 inch pieces, place in a collander and sprinkle with salt. Leave in the sink to drain while preparing the rest of the ingredients. Rinse the salt from the eggplants and shake any excess water off. You can also dry it by dabbing with a paper towel. Heat a wok or skillet and add about 2 tablespoons of oil. When the oil is hot, add the eggplants and brown each side but don't cook all the way until it is mushy; remove browned eggplants to a plate. You may have to add another tablespoon of oil if the eggplant absorbed too much oil. Sautee the garlic, ginger and onions until fragrant, then add the red bell peppers. Stir, and add the eggplants and oyster sauce. Cook for about a minute, this should render some liquid. If not add about 1/4 of a cup of water, or less depending on how much liquid you need to cook the eggplants the rest of the way. Just before removing from the heat, add the cornstarch mixture to thicken the sauce and adjust the seasoning with some salt and pepper if necessary.