For dessert, here is another traditional southern fare. I used the recipe on printed on the box of Nabisco 'Nilla Wafer Cookies.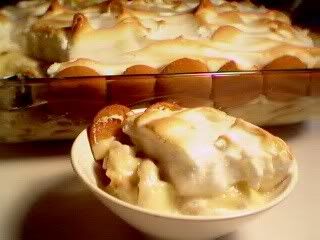 35-45 "Nilla" Wafers
6-5 ripe bananas, sliced
3/4 cup sugar, divided
1/3 cup all purpose flour
Dash of salt
4 eggs, separated
2 cups milk
1/2 teaspoon vanilla extract
CUSTARD: Mix 1/2 cup sugar, flour, and salt in top of double boiler. Blend in 4 egg yolks and milk. Cook, uncovered, over boiling water stirring constantly until thickened. Remove from heat and stir in vanilla.
MERINGUE: In another bowl, beat egg whites until stiff but not dry; gradually add remaining 1/4 cup of sugar and beat unti stiff peaks form.
ASSEMBLY: To assemble, spread a small amount of the pudding on the bottom of a glass dish; cover with a layer of wafers ad a layer of sliced bananas. Pour 1/3 of custard over the bananas. Continue to layer wafers, bananas and custard to make three layers of each, ending with custard. Spoon the meringue on top of the custard spreading to cover the entire surface and sealing well to the edges.
BAKE: Bake at 350 degrees F for 10-12 minutes or until meringue is lightly browned. Cool slightly or refrigerate, and serve.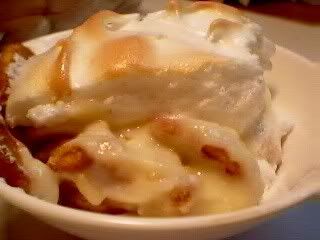 For us, I doubled the recipe as the kids and the hubby always like to have leftovers. If I make one batch, it is only good for one sitting.