Can't have turkey without stuffing, so here is my version this time. I say this time because this always changes depending on what mood I am in and what ingredients are available. Today, I used mushrooms, but I have been known to throw in some oysters, nuts, apples, you name it. The kids are not too crazy about stuffing though, so most of the time, it is just my husband and I who eats it. They eat their turkey with rice or macaroni and cheese or potatoes. Since I didn't make any macaroni or potatoes tonight, they ate theirs with rice and gravy. The funny thing is, my husband ate his dinner with stuffing AND rice! And I am supposed to be the one who is the rice eater!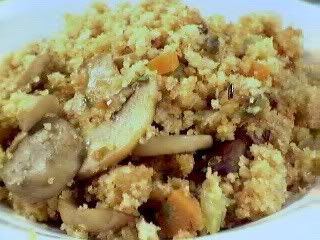 8 oz. bag of Cornbread Stuffing (you can also use left over cornbread if you have it, just don't use the sweet kind)
1 clove of garlic, minced
1/2 onion, diced
1 celery stalk, diced
1 carrot, diced
8 oz. mushrooms, sliced
2 cups of turkey broth or chicken broth
2 tablespoons of butter
Melt the butter in a skillet and add the mushrooms. When the mushrooms are slightly browned, add the garlic, onions, celery and carrots and sautee for a couple of minutes or until tender. Add the broth and bring to a boil. After it comes to a boil, turn off the heat and add the cornbread stuffing. Stir to moisten, and cover. You can leave the stuffing mixture at this point until you are ready to eat, or you can transfer to an oven proof bowl, cover, and put in the oven with the turkey for the last 30 minutes of roasting. Fluff with a fork just before serving.