Turkey has been in the food blogging air this week as TingAling did her own trial run, and Drstel reminisced about Thanksgiving dinner past. It just so happened that the same day that TingAling posted her turkey dinner, I came home from the store with a turkey. It was on sale. My husband, who just loves turkey and can eat it at least once a month, has been asking for turkey and I have been trying to put his craving off until Thanksgiving. But since the turkey was on sale, I decided to indulge his craving.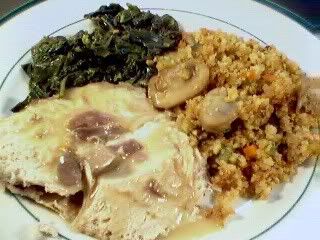 It is also the baby Clone's birthday tomorrow, so this was a sort of pre-birthday dinner.
First, the turkey: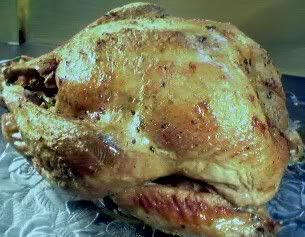 1 12 lb. Turkey
4 cloves of Garlic (peeled, leave whole)
1 Onion, quartered
1 Stalk of celery, cut into 1 inch lengths
1 Carrot, peeled and cut into 1 inch lengths
2-3 teaspoons of Salt, according to taste
1 teaspoon black Pepper
2 teaspoons dried Basil
1 teaspoon fennel seeds
1/2 teaspoon red pepper flakes
Wash turkey thoroughly and pat dry. In a small bowl, mix the salt, pepper and spices. Rub the turkey inside and out with the seasonings, and stuff the cavity with the garlic, onions, celery and carrots. Instead of the vegetables, some people would at this point stuff the turkey with stuffing, but I have gotten a bit paranoid about getting the stuffing up to a safe temperature, so I just cook the stuffing separately, out of the turkey. Bake the turkey at 325 degrees F for about 3 hours, basting occationally with the drippings. Let the turkey rest for at least 10 minutes before carving.