For the first time, our local grocery store actually carried some local NC shrimps with the heads on at a reasonable price so I thought I would try out the drunken shrimp recipe that I have been drooling at from Sassy's and TingAling's previous posts. However, I didn't get around to cooking right away, and before you know it, hubs and I had finished the wine I was going to use. Ah well, I had to come up with another recipe. I always love things cooked in coconut milk, and that we didn't drink, so I decided to use that instead. I also still have an abundance of kamote tops so I threw in a handful of those too, and it actually came out pretty well.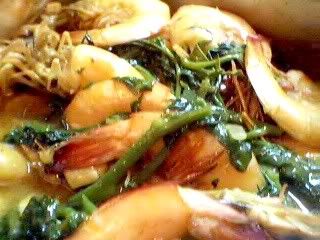 2 lbs. of shrimps with shell and heads on
2 handfuls of kamote tops (sweet potato tops)
2 tablespoons of oil
4 cloves of garlic, minced
1 onion, sliced
1 inch piece of ginger, peeled and sliced
1 cup of coconut milk
1 tablespoon of oyster sauce
salt & pepper to taste
Heat oil in a skillet and saute the garlic and ginger until they start to brown at the edges then add the sliced onions and saute for a few minutes. Add the coconut milk and let it come to a boil. When it is boiling, add the shrimp, oyster sauce and kamote tops and cook for a few minutes until the shrimp changes to the reddish color and the kamote is tender. Taste and adjust the seasonings, and serve.