Jade made this soup last Sunday, Halloween. It was so good after being out in the cold night air. She said she saw it on the food channel one day, and it looked interesting to her so she wanted to try making it. I was so busy last Sunday that I didn't really get a chance to help her other than yelling to her where things are in the kitchen. We had to leave before she could finish the soup, so she left instructions for her dad to drizzle the eggs and keep the soup warm.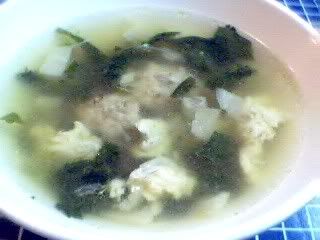 MEATBALLS:
1 onion grated or finely chopped
1/3 cup chopped fresh Italian parsley
1 lg. Egg
1 teaspoon minced garlic
1 teaspoon salt
1 slice fresh white bread, crust trimmed and torn into small pieces
1/2 cup grated Parmesan cheese
1/2 pound of Ground Beef
1/2 pound of Ground Pork
Freshly ground black pepper
SOUP:
12 Cups low-sodium chicken broth
1 pound curly endive, coarsely chopped or escarole would be a good substitute
(she used spinach since I couldn't find curly endive or escarole in the market)
2 lg. Eggs
2 tablespoons of freshly grated Parmesan cheese, plus extra for garnish
Salt and freshly ground black pepper
To make meatballs, stir all the ingredients together. Shape the mixture into 1 inch diameter balls and place on a baking sheet.
In a stock pot, bring the broth to a boil over medium heat. Add the meatballs and spinach (or curly endive if you have it) and simmer until they are cooked through, about 8-10 minutes. Whisk the eggs and Parmesan cheese in a medium bowl to blend. Stir the soup in a circular motion and gradually drizzle the egg mixture into the moving broth, stirring gently with a fork to form thin strands of egg (dad was not too successful doing this, they came out in lumps, but the flavor was still good).