Sassy posted several versions of her Mango Royale on her site that I have been meaning to try but I either did not have the time or the correct ingredients on hand. With the recent disappointing election results though, we have been on a sweet binge at our house to offset the bitterness of another four years with Dumbya. Drstel who has been also feeling down posted several delectations on her food blog. Thanks to PurpleGirl who researched the recipe to adapt to ingredients available in the U.S., the work got even easier for me.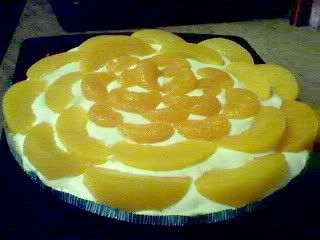 We couldn't make up our mind whether to use peaches or mandarin oranges, so we decided to use both. It was delicious! Here is our version, with some minor changes.
1 18 oz. can of Mandarin Oranges
1 18 oz. can of Sliced Peaches
1 Graham Cracker Crust (pre-made)
1 Pint of Heavy Whipping Cream
1 8 oz. bar of Cream Cheese
1 can of Condensed Milk
Mix the cream cheese and condensed milk until well blended. Scrape the sides and bottom of the bowl to make sure all the cream cheese is blended and incorporated, add half of the whipping cream and mix well. In another bowl, whip the remaining half of whipping cream until it forms stiff peaks. Slowly fold in the whipped cream to the cream cheese mixture and pour into the graham cracker crust. Put the mixture in the refrigerator for 10 minutes to set. In the meantime, drain the canned fruits to remove some of the moisture. Arrange the fruits on top of the pie and return to the refrigerator to set.
The fruit arranging was Jade's job. We couldn't wait long enough to allow the pie to fully set though, so when we cut the first piece below, it wasn't fully set yet, but it was royally divine!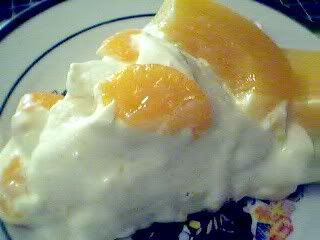 I have tried the no-bake cheesecake recipes before using Jell-O flavorings, but the result was not as good, and it had that "instant jello" after taste. This version is so much better, and the best part? No baking!