Cooked From the Heart » Filipino, secret pot, vegetables » Dinengdeng
This is my lola's favorite dish. Not a week goes by that she doesn't cook 'dinengdeng', a typical ilokano dish, at least once. She usually puts fried fish for flavor, but when it isn't available, it's just as good by itself. It also lends itself well when you only have a little bit of each vegetable, just as what I had recently. I had about 4 okra pods, the last harvest from our plant before the frost got to it; same thing with the eggplants and baby bok choy. I cleaned out the garden before the first hard freeze of the season. So this is a miniscule portion that I cooked for myself since the girls aren't too crazy about dinengdeng. It satisfied my craving, used up the little vegetable on hand, and made me miss my lola :(.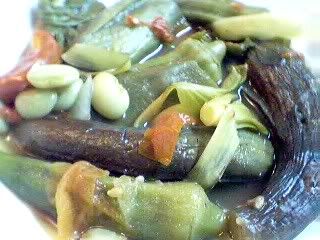 To make dinengdeng is very simple. Boil about 2 cups of water, and add about 1 tablespoon of black bagoong juice. Pangasinan style bagoong. My lola uses 'monamon' bagoong, similar to anchovies, which she puts in a bowl, adds some water, and renders the flavor from the bagoong while straining out the solids and bones from the fish. I took the easy road though and just used the bottled bagoong sauce. TingAling used a similar process in making her pinakbet. After the water has been flavored with the bagoong, I added some of the cherry tomatoes I had in the freezer which were harvested at the end of the summer; I think I added about 5-8. I didn't have any leftover fried fish to flavor this with, so it's strictly vegetables only, but the flavor was still good. At this point, I added the vegetables: baby bokchoy, eggplant, okra, and a handful of frozen baby lima beans. Cook until everything is tender.

Filed under: Filipino, secret pot, vegetables