The Clone loves corn, and this recipe is even better when freshly shucked corn is available. For this version though, I used canned corn since the fresh are nowhere to be found anymore.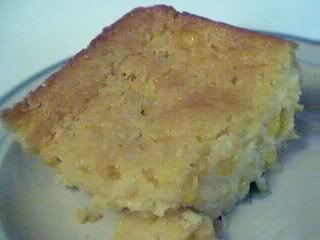 1 (15 1/4 oz.) can whole kernel corn, drained
1 (14 3/4 oz.) can cream-style corn
1 (8 oz) package corn muffin mix (recommended: Jiffy)
1 cup sour cream
1/2 cup (1 stick) butter, melted
Preheat oven to 350 degrees F.
In a large bowl stir together all the ingredients and pour into a greased casserole dish. I used a square 9 x 9 inch glass dish. Bake for 45-55 minutes, or until golden brown.
The original recipe calls for cheese to be melted on top, but we are not too keen on cheesy toppings, and I was afraid it would overpower the taste of the corn, so I left it out.