This is a very easy vegetable dish, and it is ideal for children. At least, my girls like beans and carrots. I had made the greens a little spicier this time, so I had to make a milder vegetable.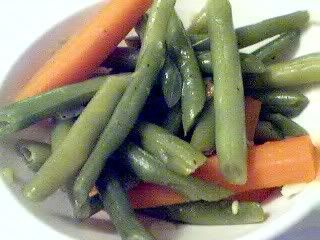 1 lb. Green Beans, cut into half length
2 large carrots, cut up
2 cloves garlic
1/2 onion
Olive Oil
Salt and Pepper to taste
1/4 cup water
Heat olive oil in a pan and sautee garlic and onion. When onions are translucent, add the green beans and carrots and stir. Add water, salt and pepper and simmer until the vegetables are tender.