Today I slept in a good while, but after that and some errands, I got around to making some Watergate Salad for tomorrow. So here's the recipe.
Watergate Salad:
2 packages of Jell-O Pistachio Pudding (4 servings ea.)
1 (20 ounces) can crushed pineapple + one 8 1/4 oz. can
3 c. miniature marshmallows
12 oz. Cool Whip
8 1/4
oz. mandarin oranges
1/2
c. pecans-chopped (optional)
Stir the pudding mix (don't do the things on the box, just put in payday loans in nc as is), pineapple, (with only a small amount -about 1 tsp.- of the juice because if you put all of it, like some recipes say, the consistency will be to watery instead of thick like mine) marshmallows and nuts, and mandarin oranges in a large bowl. Fold all the ingredients well and then gently fold in Cool Whip. Refrigerate one hour or until ready to serve. Garnish as http://paydayloansnearmeus.com/ desired and enjoy!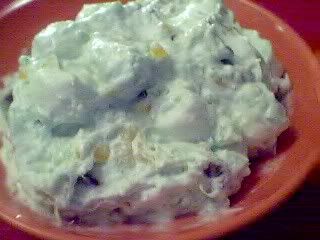 A Pic of the Watergate
This actually wasn't the actual recipe, Mom
and I sorta tweaked it a bit. Hope ya like it!