So what comes after a turkey feast but the inevitable turkey soup? Here is a very simple version, and it got that turkey carcass out of the fridge.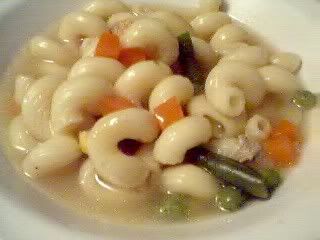 After most of the turkey meat has been devoured and you are left with just the skin and bones, don't throw it away. Throw it in a stockpot instead, and squeeze the last remaining flavor from it by adding about a gallon and a half of water and boiling it for oh, about an hour. Let it cool, remove the bones and discard. Then strain the remaining broth to remove all solid matters from it. Now you have turkey broth that you can either freeze and use later, or make turkey soup with. To make soup, just add any vegetables you like, I added a couple of cupfuls of frozen mixed vegetables, and any pasta you have on hand. I used fucilli in this case. You can also throw in whatever turkey meat you have left (I didn't have much as you can see), and in ten minutes, or when the pasta is tender the way you want it, soup is on!
Santos of the Scent of Green Banana blog has been wandering in L.A. at Third and Fairfax and she has been so making me hungry! One of the things she reminded me of? La Brea bread! Hhmmm, this goes so well with soup.