Here's another recipe you may want to use for your leftover Turkey. Sorry it's so late though. This is actually from my Auntie O. She made Chicken Casserole for me when I was at her house babysitting and stuff. So I got the recipe and decided to use turkey instead of chicken. It's okay, but I think I still like hers better, the turkey made a much different taste, I didn't think it would make such a difference, but here's the recipe.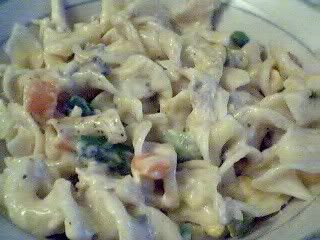 1lb. egg noodle
1 can cream of mushroom (or celery)
1
can cream of chicken soup
1 cup milk
1 12oz. can of white
breast chicken undrained (or left over chicken w/ 1/3 cup chicken broth) or leftover chopped/torn chicken/or turkey
1 1/2 cup frozen mixed vegetables
1/2 cup mozarella cheese (optional)
Prepare egg noodles as instructed in package. Drain and place in large casserole dish.
Mix in all ingredients cover and bake at 350 for 40-50 mins.
Pretty easy, Clone and Asi both like it too. Big hit here, 'cept fur dad, he sorta has this thing about Casserole, so
did I but I gave this one a chance. Pretty good. Enjoy!