This was tonight's dessert, which was a collaboration with The Clone. She was bored and feeling neglected this afternoon, so to cheer her up, we decided to make cake.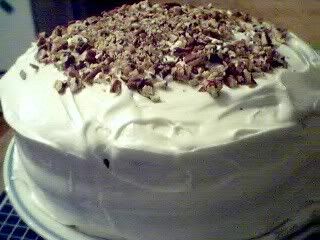 2 cups Light brown sugar, firmly packed
1 teaspoon salt
2 teaspoons Cinnamon
1 1/2 cups Cooking Oil
4 eggs
3 cups grated carrots
2 cups all-purpose flour
2 teaspoons baking soda
1/2 cup chopped nuts
In a large mixing bowl, combine the sugar, salt, eggs, cinnamon, oil and carrots. Blend together with an electric mixer (blending by hand also works, I've done it when I don't feel like taking the beater out). Gradually add the flour, baking soda, and nuts (the Clone decided she didn't want nuts in the cake, but rather on top of the cake so we omitted this step this time). Mix well. Pour into greased and floured 9 inch round pans (you can use two or three, depending on how many layers you want). Bake in a pre-heated 350 degree oven for 45 minutes or until a toothpick inserted in center of cake comes out clean. Since I used 3 round pans and the layers are thinner, I only had to bake for 35 minutes. Let the cakes rest for ten minutes after removing from the oven then turn them out onto racks to cool.
CREAM CHEESE FROSTING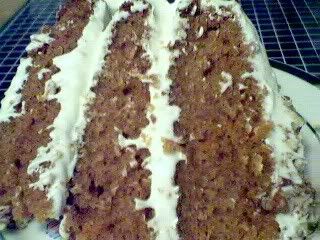 Jade made the frosting. She used:
1 stick (1/2 cup) Butter
2 bars Cream Cheese
approximately 2 cups of Powdered (confectioners) Sugar
Beat the butter and cream cheese until creamy. Gradually add confectioners sugar starting with 1 cup and adding a little bit more at a time until desired sweetness is achieved.
Frost cake. The Clone decorated the top with toasted and chopped Pecans.