I saw this recipe on Sassy's Blog and thought it may be a good thing to try. Cooking chicken as often as we do, the same recipes over and over again get tiresome, so it's always great to discover a new way of treating the same meat.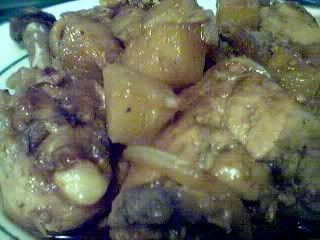 I had to make minor adjustments to the recipe though, since I didn't have liquid seasoning and didn't have time to go out to the grocery store.
1 whole chicken
1/4 cup Worcestershire Sauce
1/4 cup soy sauce
1 head of garlic, chopped
1 large onion, sliced
3 cups tomatoes (I used frozen quartered tomatoes from my summer garden)
1 20-oz can of pineapple chunks (a little more than what's called for in Sassy's recipe, but I didn't want to bother about putting the other half of pineapples in the refrigerator. Knowing us, it will still be there growing something in a month or so, so better to use it now)
1 tablespoon of rice vinegar
4 tablespoons of sugar
Red pepper flakes
4 tablespoons of butter
Salt to taste
I followed Sassy's instructions and marinated the chicken in half the garlic, 1/4 cup of Worcestershire sauce, and 1/4 cup of soy. Then put the mixture over medium high heat while I prepared the rest of the ingredients.
In a separate pan, I sauteed the garlic, onions and tomatoes in butter. I then added the sauteed vegetables and the rest of the ingredients to the chicken and simmered them until the chicken is tender, about 40 minutes. Adjust the seasonings and serve.
It was delicious! I couldn't get The Clone to try it though, she thought I was serving her the pig's feet I cooked last night 🙂 She didn't trust me even when I swore it was chicken, so she just ate rice and nothing else. Actually, I think she was saving room for dessert.