The second dish I made with the chicken dumplings is soup, with plenty of vegetables. The weather has gotten cold again, another reason why I didn't feel like going anywhere today, and soup seemed just right for a light but warm supper.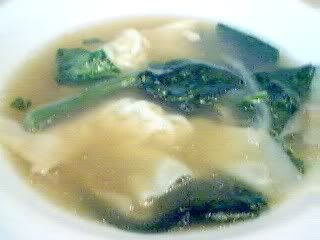 8-10 cups chicken broth
1 onion, sliced
3 cloves garlic, minced
5-6 round slices of fresh ginger root
1/2 pound of green beans, stringed and cut in half
1 pound of young spinach leaves
15 chicken wonton dumplings
Salt & Pepper to taste
1 tablespoon Oil
Heat the oil in a large pot and sautee the garlic and ginger until fragrant. Add the onions and cook until translucent. Add the chicken broth and bring to a boil. Let it cook for 10 minutes, add the green beans and dumplings and cook until beans are tender, about 10 minutes. Add the spinach leaves and adjust the seasoning. Stir the spinach into the soup just until they are wilted and the color changes to bright green, then turn off the heat.