You can tell by the number of soup posts lately that the weather has gotten cold. This is a thick and hearty meal that also provides a lot of warmth within. We had this with corn casserole, and it was wonderful! As usual, I had to make two pots, one spicy and the other not spicy for the kids. Here is the spicy version. For the kid's version I merely omitted the additional jalapeno peppers.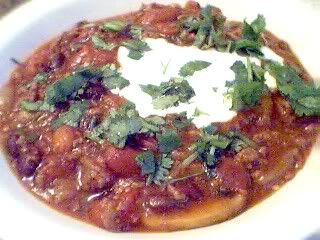 2 lbs. coarsely ground beef chuck
1 head garlic, chopped
2 large onions, chopped
1 lb. mushrooms, sliced
1 20 oz. can of diced tomatoes
1 20 oz. can of tomato sauce
1 8 oz. can of tomato paste
1 15 oz. can of red kidney beans
1 15 oz. can of pinto beans
1 15 oz. can of black beans
3-5 jalapeno pepper, seeded and diced
1 bunch cilantro, chopped
1 tsp. oregano
1 tsp. cumin
1 tsp. chili powder
2 bay leaves
pinch of cinnamon
Salt & pepper to taste
Heat a large pot and brown the ground beef. Add the garlic and onions and sautee until fragrant. When the onions are translucent, add the mushrooms and sautee until browned on the edges. Season with oregano, cumin and chili powder then add the diced tomatoes, tomato paste, and beans including the liquid. Add the bay leaves. Simmer for 1 to 1 1/2 hour stirring occationally until thick. Add a pinch of cinnamon, salt, and pepper. At this point, I take some of the chili out for the kids' mild version. For the spicy pot, add the diced jalapeno peppers and half of the chopped cilantro. Simmer for another 20 minutes, stirring occationally.
We like our bowls served with a dollop of sour cream and a sprinkling of chopped cilantro.