When it comes to bread pudding, I always remember my mom's. I think she makes one of the best bread puddings, but I have never been able to duplicate it. She doesn't have a recipe, she says she just puts enough milk, eggs and sugar to moisten whatever leftover breads she has and pops it in the oven. Sounds simple enough, and I have tried playing with the 'blind method' and have gotten pretty good results, but still I come up short of mom's bread pudding. Maybe it is just because it is Mom's and it's one of those things that you remember from childhood. So I decided, especially since I started this blog, to find the right bread pudding recipe for me and my girls. Well, mostly Asi. She is my bread pudding eating buddy. The last batch I cooked following Reid's recipe, we basically ate it all, just the two of us.
The frugal ilokana in me just can't help but try to use up every bit of left over bread, including the ends. I have never been so glad for the ducks at Duke Garden; so now I don't have to save the ends for us, but for them. We go and feed the ducks during our walks sometimes, especially during the colder months when they don't get as much food. Reid's recipe called for Portuguese sweetbread, and Claudine, who also tried out the recipe used pan de leche for her bread pudding. Well, back to el cheapo me who insists on using up 'old' bread stored in the freezer. Here is the first version:
BREAD PUDDING I
I used days old french bread for this one. When it got too old and dried for anyone to eat but before it got moldy, I made this. First I sliced the bread.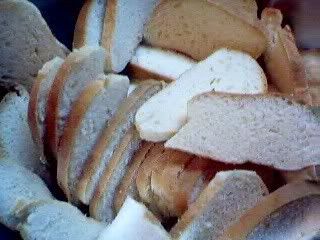 To this I added:
4 cups Milk
3 eggs, slightly beaten
3/4 cup sugar
1/4 teaspoon salt
1 teaspoon vanilla
1/2 teaspoon cinnamon
Mix all the ingredients and pour over the bread slices. Let stand for 15 to 30 minutes. Pour into a buttered dish and bake at 325 degrees for 50-60 minutes.
This one baked up beautifully, then slowly falls. It was crusty on the outside, and soft inside, but still not quite the flavor or texture I was looking for.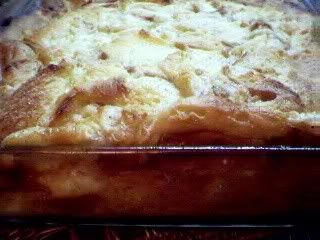 So on to the next version, which is based on Reid's and Claudine's take on bread pudding.
BREAD PUDDING II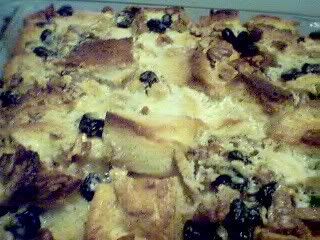 For this version, I used 4 large frozen pan de sal, cut into 1 inch chunks.
2 cups evaporated milk
4 eggs
6 tablespoons butter
1 teaspoon vanilla extract
1/4 teaspoon nutmeg
1/2 teaspoon cinnamon
1/2 cup raisins
1/2 cup toasted pecans
Place bread chunks in a baking dish (I did not butter the dish this time) and sprinkle with raisins and pecans. In a mixing bowl, cream the butter and sugar until smooth. Mix in eggs one at a time, then add the milk and seasonings. Pour the mixture over the bread and let sit for 30 minutes. Bake at 350 degrees for 40 minutes and let it rest, uncovered for 30 minutes before serving.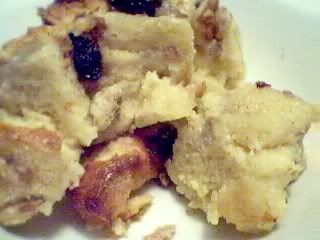 Reid said to bake it covered, but I must have missed that part when I was reading his instructions, so I baked this UNcovered. It turned out just the way I like it, a bit crusty on top. The addition of butter and use of evaporated milk instead of whole milk made the dish so much richer, and oh so good! Some of the bread on top were drier than the bottom though, so I'm thinking I didn't put enough liquid. Next time, I will probably double the proportions and see how that works out. The raisins and nuts also added extra decadence to the pudding. Yummy!