Aside from Momma Dot's Sweet Potato Pie, another holiday must for us is her Coconut Cake. She used to make this every year, and then she taught it to me. After a while, she gave me the privilege of making this cake at every family gathering. She passed away this summer after a courageous battle with brain tumor, so she was sorely missed this holiday. This is our way of remembering and honoring her memory for she surely not only fed our stomachs well but also our souls.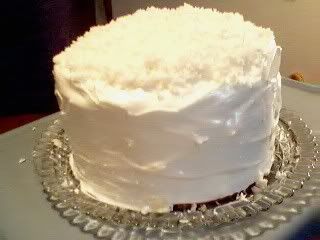 For an island girl like me, this is an acquired taste. I prefer my coconuts young, and have always turned my nose up on processed coconuts. But, when in Rome…you know how it goes. The coconut used in this recipe is the fresh, frozen type, thank god. I can't stand that baker's dehydrated coconut stuff. I've only been able to find this frozen variety in the South East. I tried looking for it in Los Angeles once, and couldn't find it, so I resorted to grating my own from fresh coconut, but the mature kind. Not the soft, young, eat out of the shell type I prefer. The type of coconut for this cake is the kind we use to render coconut milk when I was growing up. The saving grace of this cake for me is the frosting. It is soft, billowy, marshmallow cream like. Yummy!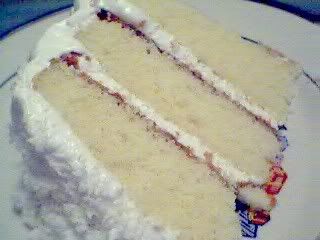 The CAKE is the 1-2-3-4 recipe found on the back of the Swan's Down Cake Flour.
1 cup butter or margarine
2 cups sugar
3 cups sifted Swan's Down Cake Flour
3 teaspoons Baking Powder
1/2 teaspoon salt
4 eggs
1 cup milk
1 teaspoon vanilla extract
1/2 teaspoon almond extract
Pre-heat oven to 350-degrees F.
Cream butter. Gradually add sugar, and cream until light and fluffy. Add eggs one at a time to the creamed mixture, beating well after each addition. Sift flour with baking powder and salt. Add flour mixture alternately with milk and flavorings, beating after each addition until smooth.
Pour batter into 3 greased and floured 9-inch round layer pans. Bake for 25 to 30 minutes or until toothpick inserted in center comes out clean. Cool in pans for 10 minutes then remove from pans and finish cooling on racks.
SEVEN MINUTE FROSTING
1 1/2 Cups sugar
1/4 teaspoon cream of tartar
1/8 teaspoon salt
2 egg whites
1/4 cup water
2 tablespoons light corn syrup
2 teaspoons vanilla extract
Mix sugar, cream of tartar, salt, egg whites, and water in a pot or bowl over simmering water. Beat steadily over low heat with an electric hand mixer until the frosting stands in peaks, about 5-7 minutes, no more. (Overcooking will make your frosting brittle upon cooling) Remove from heat and continue to beat until thick enough to spread. Add the vanilla before spreading. You will have enough to fill and frost an 8 or 9 inch two-layer cake. Since I always make a three layer cake, I double the recipe to make sure I don't skimp on the frosting as it has a tendency to get absorbed into the cake if you let it sit too long. When you have company though, sitting around too long is not a problem.
I used two 8 oz bags of the frozen grated coconut. Momma Dot used to sprinkle it between layers and all over the cake. This time though, I only put some in between the layers and on top of the cake to show of the sheen of the frosting on the sides. Plus, the girls are not too crazy about the grated coconut either, so I thought I'd leave them some pristine frosting with their cake.