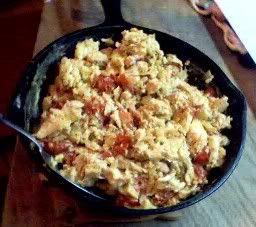 Here is how we recycle lefover baked salmon. My lola used to do this with either canned salmon or canned sardines, but it works well with leftover fish too. This is good for breakfast with fried rice, or as a light supper with salad.
2 cups flaked salmon
3 garlic cloves, chopped
1 onion, chopped
2 tomatoes, chopped
Oil
6 eggs, scrambled
salt & pepper to taste
Saute garlic and onions in hot oil until fragrant. Add tomatoes, and sautee until soft, then add salmon flakes. Stir together well. Add scrambled eggs, and stir slowly to allow the eggs to set. Some like to keep the whole mixture whole, fritata style, and I do that too sometimes, but this time I decided to just mix it all together. Season with salt and pepper.