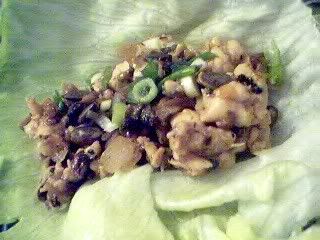 With the cold weather and holidays, we have been indulging in fairly heavy and (fat) rich meals, so we decided to have a light dinner last week and decided to have diced chicken wrapped in lettuce. The problem was, I was out of hoisin sauce. So, we improvised a bit this time, and made our own sauce. I still prefer the hoisin sauce though.
4 skinless, boneless chicken breasts, diced fine
4 dried shitake mushrooms – soak in warm water and dice
2 cloves garlic, minced
1/2 onion, diced
1 teaspoon ginger, minced
2 tablespoons oil
1 teaspoon cornstarch
2 teaspoons dry sherry
1 tablespoon oyster sauce
2 tablespoons water
Serve with:
1/2 cup green onions, finely sliced
lettuce leaves
hoisin sauce OR (since I didn't have any hoisin sauce)
Mixture of 1 tsp. oyster sauce, 2 tablespoons bottled barbeque sauce, 1/4 cup Catalina dressing, 1-2 tablespoons of ketchup, 2 teaspoons honey, and salt and pepper to taste.
Mix together the cornstarch, dry sherry, oyster sauce, and water in a small bowl. In a wok or large pan, heat oil and saute' the chicken until opaque and set aside. Heat up a bit more oil and saute' the ginger, garlic and onions until fragrant. Add the dried mushrooms, stir fry for a couple of minutes and add the chicken back in the pan. Season with the cornstarch mixture, and stir. Remove from heat.
To eat, spread a little sauce on a lettuce leaf, add a spoonful of the chicken, and sprinkle with green onions. Wrap up in the lettuce, and enjoy!