With the cold weather, it seems that a lot of food blogs (Baby Rambutan made Pho, Sassy made chicken soup, for example) have been cooking lots of soups. I actually was looking for ox tails like what chef Celia had, but couldn't find any. I did find fresh ham hocks, so I decided to make sour soup.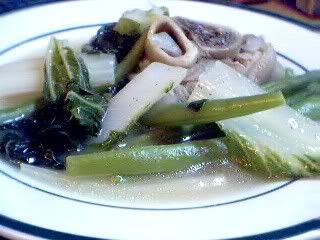 Prep time:
Cook time:
Total time:
Ingredients
2 pounds Pork Hocks, fresh
about 10 cups water
1 onion, sliced
½ lb. green beans
1 lb. bok choy, sliced
Tamarind soup mix (sigang mix)
Salt & Pepper to taste
Instructions
Place pork hocks in a large pop and add 10 cups or enough water to cover, and bring to a boil. Skim off the scum from the top as it rises (or if you forget to check like I did, pour off the scummy water and start anew).
Turn the heat down to a slow boil and cook until tender (about 60-90 minutes).
When the pork is tender, add the onions and sigang mix and let it cook for another 20 minutes or so to get the flavors to blend.
Adjust the seasoning. Add green beans and cook until almost tender; then add the bok choy, cook for one minute and turn off the heat so as not to overcook the vegetables.
Notes
Most sinigang dishes have tomatoes in them as an added souring agent. However, I didn't have any when I cooked this. Definitely add them if you have some! There are many other vegetables that you can add to this sour soup dish. Some of the ones commonly used are mustard greens, cabbage, spinach, radishes, okra, peppers and eggplants. Whatever vegetables you like, you can probably add to this soup.
_________________________________________________
After Karen saw this post, she emailed me to enter this recipe for the IMBB event since it had green beans in it. This prompted me to come up with another recipe with beans since I was planning on cooking beans this weekend anyway. I came up with the Pork and Beans recipe above. Thanks for the prompt, Karen! 🙂