I have been a long time fan of the Is My Blog Burning events originally conceived by Alberto, but have never participated since I am never organized enough to plan for the submission date. Today, at the prodding of Karen, I decided to make an entry. I just hope it makes it on time, as it is kind of late. So pleeease Cathy, accept my entry?
Anyway, for the longest time, I had wanted to try making a cassoulet type dish, but I also wanted to use my sand pot that has become more of a kitchen ornament than a utensil. I didn't have time to get all the ingredients for a proper cassoulet, so once again, I improvised. Here is my humble offering, which I'm happy to say came out quite delicious.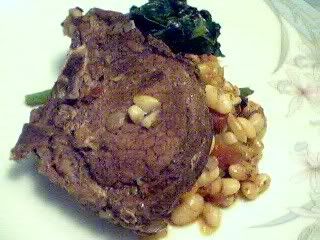 As I said, I wanted to put this kitchen decoration to use: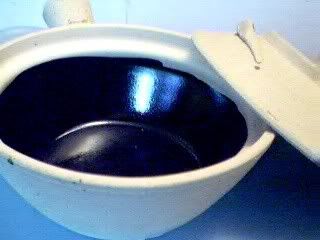 I started out by quick soaking a half pound of dried Great Northern Beans. To quick soak (slightly amended from the package direction): boil beans for 5 minutes, and let it soak for 1 hour.
In the meantime, prepare the following:
6 cloves of garlic, chopped
1 onion, chopped
1 sprig of bay leaf (4 leaves)
1 teaspoon dried basil
1 small carrot, chopped
1 rib of celery, chopped
2 tablespoons olive oil
1 3/4 cup water
2 chicken bouillon cubes
1 – 14.5 oz. can of peeled, diced tomatoes
Marinade 2 pork chops in: salt, pepper, garlic powder, balsamic vinegar, olive oil.
In a pot, heat the olive oil and sautee the onions and garlic until translucent; add the carrots and celery and cook for a couple more minutes. Add the can of tomatoes, basil, bay leaves, water and chicken bouillons and bring to a simmer. Drain the beans, and add to the pot. Simmer for about 30 minutes.
While the beans are simmering, in a skillet, brown the pork chops on both sides. When they were done browning, I added the remaining marinade and let it caramelize. Place the pork chops in the clay pot and pour the bean mixture on top. I had about a cup of the bean mixture left over since the clay pot was not big enough. Cover the pot, and put in a 350-degree oven to bake for 2 hours.
This is what it looked like when it came out of the oven: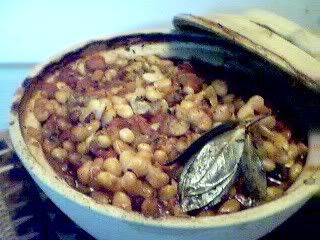 I served this with turnip greens sauteed in garlic and olive oil. It was delicious! Will definitely add this one to our regulars list.