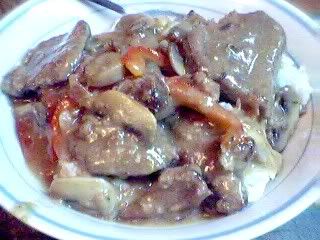 Beef stew for me has always been tomato based with potatoes, carrots, and other veggies in the "stew". Southern beef stew, I learned was quite different though. It was more of just plain beef stewed in gravy. It was pretty good, different, but quite satisfying. However, I just can't leave it well enough alone, so here is my version with a few additions.
2 pounds of lean chuck roast, cut into 1/4 inch thick medallions
1 pound of mushrooms, sliced
1 red bell pepper, sliced into strips
1 large onion, sliced
4 garlic cloves, chopped
4 tablespoons flour
Salt & Pepper
1 tablespoon Worcestershire Sauce
Pinch of Red Cayenne pepper
4 cups water
Oil
Dredge the beef sliced in the flour, and quickly sear in the hot oil in batches and set aside. Reserve the flour left in the pan after dredging. Sautee the garlic and onions until fragrant, and add the mushrooms. Cook until the mushroom is slightly browned on the edges, the onions translucent, and any liquid rendered from the mushroom has evaporated. Add the red bell pepper and stir. Add the flour, and cook in the oil for a few minutes. Put the browned beef slices back in the pan and add 4 cups of water to start, and simmer until the beef is tender. Stir occasionally to keep from sticking to the pan, and if needed add more water to keep it from drying out. In our kitchen, we always serve this over rice, but it is also good with corn bread or home-made rolls.