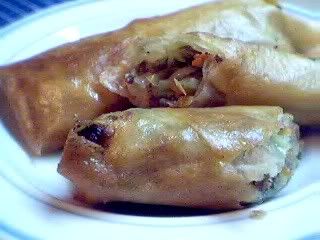 This is our version of this, very typical Filipino version of the spring roll, Lumpia. Since my hubby is alergic to bean sprouts, that ingredient is omitted; and since I never plan ahead, I use mainly the three mainstays of our refrigerator, carrots celery and cabbage. Any vegetable can actually be added when making lumpia; besides bean sprouts, green beans, water chestnuts, other types of cabbage, and broccoli, to name a few, can also be used. In a pinch, I have also been known to use the frozen mixed vegetables in lumpia.
1 lb. ground beef
1/2 lb. ground pork
1 whole head of garlic, minced
1 large onion, sliced
2 large carrots, julienned
1/2 lb. green beans, julienned
2 stalks of celery, sliced thin diagonally
1/2 head of cabbage, sliced thin
3 tablespoons of oyster sauce
3 tablespoons of soy sauce
1 teaspoon of black pepper
2 25/pack of spring roll wrappers
Heat wok or large pot and brown the ground meats until they render fat. Use the fat rendered to saute the garlic and onions until they are fragrant. Add the carrots, green beans and celery and stir fry until the green beans are almost tender, then add the cabbage. Stir fry a bit longer with the oyster sauce, soy sauce, and black peppers just until the cabbage wilts. Don't overcook. Let the mixture cool.
When cool, wrap in the spring roll wrappers and either freeze for later use, or fry in hot oil until lightly browned.