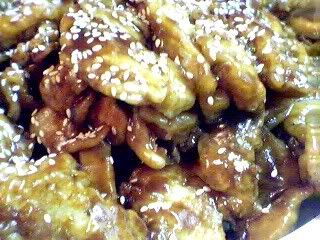 Another favorite at the Chinese restaurant, here is our version of Sesame Chicken.
4 Boneless Skinless Chicken Breast cut into strips
3 cups oil (for frying)
Sesame Seeds
BATTER:
1 cup all-purpose flour
1/2 cup cornstarch
1 3/4 cups water
1/2 teaspoon salt
1/4 teaspoon baking powder
SAUCE:
3/4 cup water
3 tablespoons white vinegar
3 tablespoons sugar
1/4 cup honey
4 teaspoons soy sauce
1 chicken bouillon or 2 teaspoons instant chicken granules
1 teaspoon sesame oil
2 teaspoons cornstarch
Combine the ingredients for the batter mixture and whisk until blended. Let stand for 15 minutes. In the meantime, heat the oil in a wok or skillet and heat until it reaches 375 degrees F. Dip the chicken strips in the batter and drop in the hot oil one strip at a time. Don't over crowd, you may have to fry the chicken in 4 batches. Fry the chicken strips until they are golden and drain on paper towel.
After frying, remove all the oil from the wok, but don't wash. Return to the heat and add all the sauce ingredients, previously mixed together. Cook and stir until the mixture boils and simmer for 3 minutes until the sauce is thickened. Add the fried chicken strips and stir to coat with the sauce. Transfer to a serving platter and sprinkle with sesame seeds.