Mystery of mysteries! (or onset alzheimer's) This recipe went missing from this blog all of sudden. It was posted here at one time, but no more. So here I am re-posting it again. Here is the original post:
***************************************************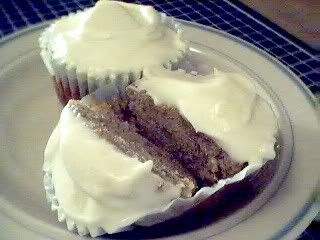 The girls call the bananas for these muffins "rotten" because they are black when I take them out of the freezer. They only eat "perfect" bananas in their prime, so anything that has brown spots or overripe gets thrown in the freezer until I can use them for this recipe. It's the Ilokano in me, coming out, what can I say. I just can't stand to throw food away.
My mom, makes very good banana bread but she doesn't ever write the recipe down. I've tried several recipes until I came up with this one, which the girls heartily approved. However, there is something about baking it in a cake pan or loaf pan that they just don't like. The only time the whole batch gets gone in a day or two is when I make it into muffins. They take it for their lunches, and snack on it when they get home from school. It even goes faster when it is frosted with the cream cheese frosting (recipe follows) that I usually use for carrot cake.
1/2 cup (1 stick) butter or margarine (butter is better:))
3/4 cup granulated sugar
2 eggs, beaten
1/2 teaspoon salt
2 bananas, mashed (equivalent to 2 cups)
1/4 cup milk
1 1/4 cups sifted all-purpose flour
1 teaspoon baking soda
1 teaspoon baking powder
1 teaspoon vanilla
Pre-heat oven to 350 degrees F.
With an electric mixer, blend butter and sugar, add eggs and salt. Beat until fluffy. Add mashed bananas and mix well. Sift together all dry ingredients and slowly add to banana mixture, alternating with the milk. Mix until blended then add the vanilla. Pour into grease muffin tins or loaf pan. I lined my pans with paper cup liners for less messy baking, and it's easier for the girls to handle with the paper liner. For muffins, bake for 15-20 minutes. If using a loaf pan, bake for 40-50 minutes. Makes 18 muffins or 1 loaf.
This recipe does well doubled or tripled, as I have often had to do just to use up all the rotten bananas saved up in the freezer. When freezing bananas, just put the whole bananas in a plastic bag and throw in the freezer. They are good up to 6 months. They can probably last longer, but that is the longest that I have kept them in the freezer without having the freezer burn taste.
Thanks for asking for the frosting recipe, Susan. I just realized I never did post it at the end of the banana muffin recipe 🙂 Here it is:1 stick (1/2 cup) Butter
2 bars Cream Cheese
approximately 2 cups of Powdered (confectioners) Sugar
Beat the butter and cream cheese until creamy. Gradually add confectioners sugar starting with 1 cup and adding a little bit more at a time until desired sweetness is achieved.
Frost cake. The Clone decorated the top with toasted and chopped Pecans.
In the response to your comment, Susan, I said one bar each of cream cheese and butter. That proportion will work too, especially when you're making a smaller batch of frosting as in for muffins. The proportions above is what we use for the triple layer carrot cake.