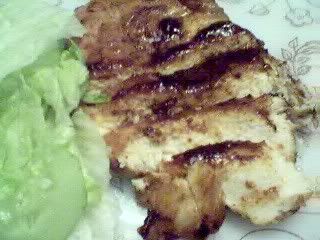 If you can chicken fry a steak, I figured you can also fry chicken like a steak, right? So this is our experiment, for a quick, easy weekday meal.
Chicken Breasts
Marinate chicken breasts in Kikkoman's Teriyaki Sauce
Fry in a hot saucepan that has been greased lightly with vegetable oil. After pan frying chicken breasts, deglaze the pan with chicken broth and marinating liquid; reduce liquid to half, then thicken the broth by incorporating butter until the sauce thickens. Pour sauce/gravy over fried chicken breasts and serve.