I had to post this recipe first, since it goes with Jade's Bean Dip recipe, which we had during our Mexican Feast last week. I got this recipe from the San Francisco Cookbook. The cookbook is designed for tourists, highlighting different areas in San Francisco with an accompanying recipe from the particular district. I picked up the book during one of our visits.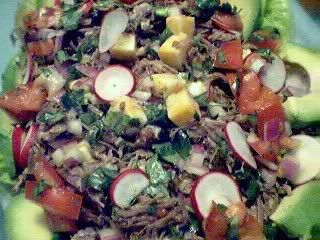 1 lb. beef brisket (couldn't find the brisket, used chuck roast instead)
2 large onions, peeled and sliced
1 qt. canned beef broth
4 poblano peppers or 6 long green chiles cut into 1/4 inch wide strips
4 oz. chipotles adobado, pureed or dried powder ( I used the chipotles adobado, but not all 4 oz. as it would have been to spicy for the girls. I probably used 1 oz)
2/3 cup olive oil
1/2 cup fresh lime juice
8 oz. Jack cheese, cut into 1/4-inch cubes
1/3 cup white wine vinegar
1.5 tsp. salt
2 garlic cloves, crushed (love garlic, so doubled this to 4 cloves)
1 cup red onion, coarsely chopped
3/4 cup cilantro, minced
1 head romaine lettuce, separated
3 medium tomatoes, wedged
2 ripe black-skinned avocados, peeled and pitted
5 radishes, sliced
Flour or/and Corn Tortillas
Lay the roast in a pot (to save time, I again used my handy-dandy pressure cooker). Scatter the onion slices overr meat. Pour in broth and add cold water to cover the meat by 3 inches (when using the pressure cooker, you don't have to add as much water, just enough to cover the meat). Set over medium heat and bring to a boil. If you are boiling it the conventional way, it will probably take 3-4 hours until tender. By pressure cooker, cook for about 1-1.5 hours. Remove from heat, uncover and let stand in broth until it is just cool enough to handle.
Pour off and strain the broth, reserving 1.5 cups. Trim fat from the roast and discard. Using the tines of two forks, one in each hand, "pull" the meat to shred. Should be almost fluffy. In a bowl, combine the beef and the broth; let stand covered at room temperature. Whisk together chipotles, olive oil, lime juice, vinegar, salt and garlic. Drain the meat, pressing hard with back of a large spoon to extract any broth that has not been absorbed. In a large bowl toss togetherr the beef, diced cheese, and chipotle mixture. Add the red onions, cilantro, chile strips and toss again. Line a large platter with the coarse outer leaves of the romaine. Mound the salpicon on the lettuce. Garnish with spicky yellow inner leaves of the romaine, the tomatoes and avocado wedges. Scatter the radish rounds over all. Serve with warm tortillas.