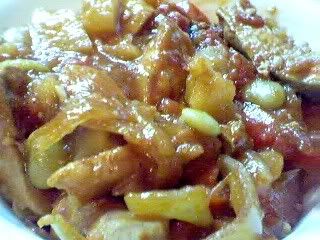 Pork apritada is a Filipino pork stew, better described by the Radical Chef, in relation to other tomato based stews common in the Philippines. I used her recipe and a simpler version from my one of only two Filipino cookbook, Let's Cook with Nora by Nora Daza, to come up with this version. I usually cook chicken apritada, but this time I thought I'd try it with pork.
1 lb. pork loin, cut into strips
1 large onion, sliced
6 garlic cloves, minced
3 roma tomatoes, sliced
1/2 cup baby lima beans
2 medium sized potatoes, cut into 1 inch cubes
2 bay leaves
2 tablespoons tomato paste
3 tablespoons vinegar
2 tablespoons oil
1 cup water
Salt & pepper to taste
Heat oil in a large pot and sautee garlic, onions, and tomatoes until wilted. Add the pork, let cook until the color changes and the edges are slightly browned. Add vinegar and let it boil for a few minutes, until it is reduced. Add the tomato paste, bay leaves, salt and pepper. Add the water and simmer until pork is tender, about 30 minutes. Add more water if it starts drying out too much.
Traditionally, the potatoes for afritada is fried before it is added to the stew. Since I am avoiding frying and conserving the amount of fat I cook, I decided to simply add the potato cubes to the stew and let it simmer until it is tender. About 5 minutes after adding the potatoes, add the baby lima beans and simmer until all is tender. Check the thickness of the gravy. If too watery, you can thicken by adding a slurry of cornstarch. The recipe is usually thickened with bread crumbs, but I haven't had a chance to try it yet.