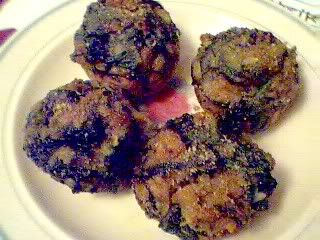 These tidbits are a mouthful of flavor for mushroom lovers. The recipe, like everything I like to make, is quite simple:
2 pounds of medium to large button mushrooms, stems removed, chopped and reserved
3 cloves of garlic, minced
1 medium sized onion, finely chopped
1/2 pound of baby spinach leaves chifonade
1/4 cup of fresh bread crumbs
salt & pepper to taste
3 tablespoons of olive oil
Heat a skillet and add 1 tablespoon of olive oil, and saute the garlic, onion and chopped mushroom stems until fragrant, and most liquid had evaporated. Add the spinach chifonade and cook until wilted. Add bread crumbs to absorb some of the liquids, and season with salt and pepper. Stuff the mixture into the mushroom caps, and put in an oven proof dish. Drizzle with the remaining 2 tablespoons of olive oil, and bake in a 350 degree F oven for 15 to 20 minutes or until mushrooms are tender.