The Bread Pudding quest continues, and I though I would share this version with my blogging amigas. This version is adapted from "Quick & Easy Vietnamese Home Cooking for Everyone" by Andre' Nguyen and Yukiko Moriyama.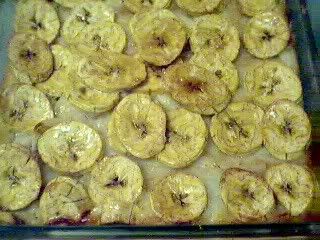 2 ripe plantains or plain bananas (cut into slices)
10 slices of white sandwich bread, crusts removed and cubed
1 1/2 cups coconut milk or 1 (14 oz) can
1/2 cup sugar
1 pack of frozen shredded young coconut, drained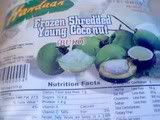 1/3 cup condensed milk
1 egg
Mix coconut milk, sugar, young coconut, condensed mild, and egg in a bowl, and add the bread. In a 9 inch square oven proof dish, pour half of the bread mixture and add a layer of banana slices. Cover with the remaining bread mixture and additional banana slices on top. Sprinkle with brown sugar and bake in a 350 degree F oven for 45-50 minutes or until set. Let it cool before cutting. Enjoy!