Miss Annalyn S. Jusay, of the Manila Bulletin has graciously included us in her recent roundtable of food bloggers. She sent a few of us Filipino food bloggers questions about our blogs, and our take on food. We got a bit carried away answering her questions that she has to break up her article into two parts :-). Other food bloggers in the roundtable are: Karen of the Pilgrims Pots & Pans, TingAling of the World Class Cuisine, CeliaK of the English Patis, and Stef of Stefoodie.net.
Go check out the roundtable, part I.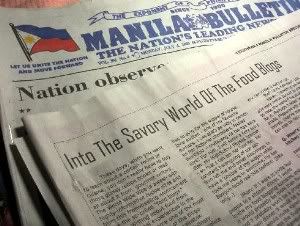 Photo compliments of Karen at Pilgrims Pots & Pans.