Being tagged for a cooking meme by CeliaK brought back a flood of memories for me, so I decided on a slightly different take on the meme. I have combined the first three questions, so I can reminisce a little about my lola, who was an early influence on my cooking, and growing up in the province.
What is your first memory of baking/cooking on your own?
Who had the most influence on your cooking?
Do you have an old photo as "evidence" of an early exposure to the culinary world and would you like to share it?

Cooking, it seems, has always been a part of my life starting with the first tea set and kitchen set I received for Christmas presents. But my first "real cooking" experience happened during one of our many visits to my lola's (grandmother) house in the province. As young as 7 or 8, we were allowed to play with fire. Actually, I remember her teaching me how to build a fire on her wood stove at this age. During harvest time, we are allowed to throw sweet potatoes or corn to roast in the fire. My favorite game growing up is playing house, because then I get to cook.
I had a miniature set similar to my grandmother's own clay stove and pots. My set is long gone, but I found this set during our last vacation to the Philippines. I am glad I still have it to share with my girls.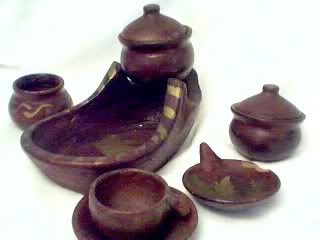 The set I played with wasn't this fancy, it was just as plain as my grandmother's real stuff, and by the time I had used it a few times, it was as blackened are hers were.
Now that I have my own children, I fuss at them for all kinds of stuff including warnings about burning the house down. Then, I think back to this time in my childhood when it wasn't unusual for us to build a fire to cook on. I had a clay pot just like this, and I would use the small kindling sticks that my grandmother would cut to build a fire and cook rice. She never hesitated to give us a small cupful of rice to cook as we please. We gathered vegetables and fruits from the farm to experiment on. Most of the time though, our recipes consisted of boiling them with a bit of salt. We would eat what we cooked too.
Mageiricophobia – do you suffer from any cooking phobia, a dish that makes your palms sweat?
I'm willing to try cooking almost anything, but the things I fear I tend to procrastinate on. Soufle's are one of them, or anything that has the possibility of "falling". That's why I am still hesitant at baking cakes. I guess soufle's and airy cakes are next in my repertoir.
What would be your most valued or used kitchen gadgets and/or what was the biggest letdown?
My most valued kitchen gadget would be my 16 year old Oster Kitchen Center. I bought it to mix cakes and breads but I grew to appreciate the other features that came with it like the blender and food processor. It is probably one of the oldest gadgets I have and it's probably nearing its end. I would surely miss it when it finally gives up on me.
Name some funny or weird food combinations/dishes you really like and probably no one else.
This is a really hard one for me to answer as I don't think any of my food combinations are weird. If it tastes good, I'm all for it. One of the the food combinations that most of my American friends find strange is Avocado as dessert/sweet. I grew up eating avocado as dessert, so I don't find it unusual at all.
What are the three eatables or dishes you simply don't want to live without?
Fruits, vegetables, and rice.
3 quickies:
favorite ice cream … Haagen Dazs Coffee
you will probably never eat … anything that smells foul or unsanitary
signature dish … any Filipino dish becomes my signature dish, since most of the time, I am the only Filipino where I live now.
I pass this meme on to any who haven't been tagged yet, and I hope Jade will answer some of the questions too.