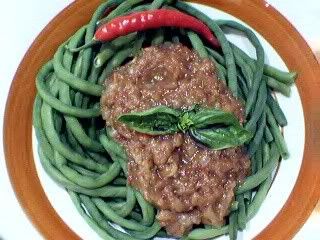 The yard long beans from our garden have been bountiful, and I wanted to try a new recipe using them. Sometime ago I saw a recipe for long beans pecel and I had been wanting to try it. This was my chance. Pecel is an Indonesian peanut butter based sauce usually served over boiled vegetables. One of the cookbooks I bought called New Asian Cooking (published by Bay Books) has an Indonesian recipe called Gado Gado, and it has a peanut sauce recipe on it too, but I found another version here that I thought might be a tad better, and has the ingredients that I have on hand. I changed the proportions some, and made a couple of additions. I think my version was not so bad. My husband loved it, and we almost ate the whole thing!
Start by preparing all the ingredients: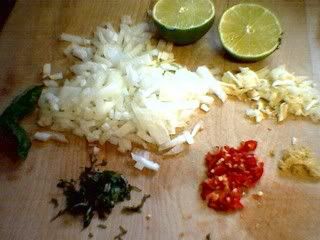 About a pound of Yard Long Beans – I decided to leave the beans long, as I thought it looked prettier this way than cut up. If the kids had been home, I may have cut it up to more manageable size.
5 cloves of garlic, crushed
1/2 Onion, chopped
1 teaspoon Ginger, minced
1 fresh, red cayenne pepper, chopped (about 1 tsp)
2 tablespoons Oyster Sauce
1 teaspoon Fish Sauce
1/4 cup Coconut Milk
1/4 cup Creamy Peanut Butter
1 tablespoon Brown Sugar
Juice of 1/2 lime or about 1 tablespoon.
1 teapoon chopped basil leaves
Blanch the beans for about 5 minutes or until tender, and drain. In a pan, heat 1 tablespoon of oil and saute garlic, ginger and onions until fragrant and tender. Add the cayenne pepper, oyster sauce, fish sauce, coconut milk, peanut butter, brown sugar and heat through. Add the basil leaves and remove from the heat. Pour the sauce over the beans and enjoy!