My husband loves breakfast, and since the girls went on summer vacation, we have been indulging too much. We've even had breakfast food for late dinner! We got us some true blue country ham, which reminds me of tuyo (salted, dried sardines), strangely enough, because of it's saltiness, and it's strong smell. It smells a bit like funky feet, but if you can get past that, which really, it dissipates as it cooks, is really quite delicious.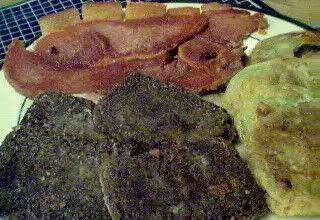 On this day, since we had plenty of green tomatoes, we decided to have some fried green tomatoes along with liver pudding (another southern specialty) and country ham, of course accompanied with buttery grits. Yummy cholesterol heaven!
The ham is so salty that I parboiled it first and threw out the first water, added a bit more and boiled it down until all the liquid has evaporated and the ham started to sizzle and take on some color. After the ham has browned, my mother in law used to deglaze the pan with coffee, producing what they call red-eye gravy which is then drizzled over the grits. I like frying rice in the same pan and getting that good country ham flavor all over the fried rice.
I have also taken a liking to fried green tomatoes which is simply dredged in flour and fried. We couldn't wait for the tomatoes in the garden to ripen, so this was a great way to have a sampling.
In contrast, this is my hubby's favorite Filipino breakfast meat, tocino.


This was my first attempt at making tocino at home, and it wasn't too bad, if I do say so myself. I simply marinated thin slices of a boston butt pork roast in apple cider vinegar, soy sauce, brown sugar, and black pepper. No coloring, so this doesn't have the usual reddish color, but the flavor was good. I cooked the tocino over low heat until all the liquid evaporated and the marinade started to caramelize and take on that golden color. Tip from my dad: cook it slow, don't over cook it, and you will have a tender tocino. It worked!