The first Lasang Pinoy event is here, and it is to commemorate Ninoy Aquino Day. I am ignorant to political details so I wouldn't be able to tell you much about the background of Philippine politics that catapulted Benigno Aquino Jr. to legendary status. To most Filipinos, he is akin to JFK to Americans. Most Filipinos will remember where they were and what they were doing that fateful day 22 years ago when Ninoy Aquino was gunned down at the airport, his feet not having even the chance to once more touch the homeland he would die for. He had become a symbol of hope from the corrupt dictatorship of then president Marcos.
I was just concluding my first year in college in 1983, and while the assassination shocked and horrified me, the ensuing revolution filled me with pride to be Filipino. You can say these times were bitter sweet for us. So I offer an Ilokano dish that is both bitter and comforting.
Pinapaitan, roughly translated as bitter meat, gets its bitter taste from beef bile. It is an acquired taste, certainly; but I think it aptly reflects the times subsequent to the assassination. Sometimes we were ashamed to be Filipinos to have a government so corrupt and insecure that it could not see the needs of its people, then we became filled with pride at the integrity of the masses who took to the streets in order to preserve democracy in their country, all in the name of peace and love. Pinapaitan is sort of like that. The bitter taste assaults your taste buds, then as the soup reaches the back of your throat the sourness and saltiness counters the initial assault and the mingling of flavors and warmth of the soup comforts you, reaching deep to caress your sinuses, then your mind lets you know, it's ok….that little spice makes you see colors once more. You realize the possibilities and can't help but want for more.
Here's what you need to transform: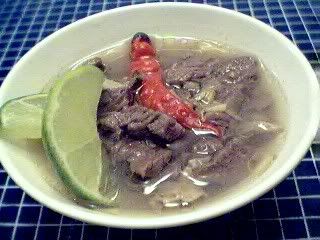 2 tablespoons of Oil
6 cloves of Garlic, chopped
1 whole Onion, chopped
1 inch of fresh Ginger, peeled and sliced
1 pound Beef Tripe, pre-boiled and sliced
1 pound boneless Beef, sliced thin
1/2 pound Beef Liver, sliced
1 teaspoon Beef Bile
2 tablespoons of Vinegar
Salt & Pepper to taste
2 chili peppers (optional)
Lime (optional)
Parboil the tripe in a pot full of water with a dash of vinegar until tender. Cool, and slice accordingly. In a bowl, marinade the sliced beef liver with the 2 tablespoons of vinegar.
Heat oil in a pot and sautee the garlic, onions and ginger until fragrant. Add beef and stirfry for a few minutes. Add the tripe and enough water to cover, about 5 to 6 cups. Simmer until the beef is tender. Season with salt and pepper to taste, and add the liver soaked in vinegar. Cook for a few minutes more until the liver is tender. Add the bile and chili pepper if you are using them, and cook a couple minutes longer. Taste and adjust seasonings as needed.
 Note:
I started by adding just half a teaspoon of the bile and tasted it before adding more. You can add more or less depending on your liking. My dad would probably add more than a teaspoon of bile were he cooking this. He likes his pinapaitan to "bite". At the table, I again adjust the seasonings by adding a squirt of lime or lemon for an added zing, and more chili for added heat.