In the wake of the very successful Lasang Pinoy event, I now have a long list of must try recipes. One of the posts that tickled my tastebuds, is a post from WatsOn about foods cooked with coconut milk. It reminded my of my mom's guinataan. She cooked some while I was in California last month, and it was really delicious. Unfortunately, the next night, on the second go round of it, she forgot about it being on the stove heating, and burned the bottom, ruining our second helpings. WatsOn's post about coconut milk just made me crave it again, so I thought I've make us a batch this past weekend. So pareng WatsOn, this one's for you 😉
Of course I had plenty of help making the bola bola which is the marble sized dough made from rice flour. This was the girls' special project. Do you see they tried to slip a square one on me? 🙂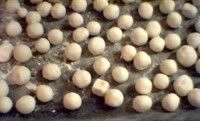 I also had to do some quick on-phone consulting with mom as I wasn't quite sure of the order in which to cook things. It's a good thing I did, or I wouldn't have known to boil the dough balls in water first.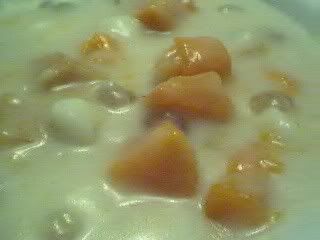 Prep time:
Cook time:
Total time:
A common Filipino dessert and/or snack made with coconut milk, fruits and rice balls.
Ingredients
1 12 oz pack of rice flour
6 cups of water
4 cups of coconut milk
2 plantains, cubed
4 small sweet potatoes, cubed
2 cups of cooked tapioca balls
1 cup of sugar, give or take a couple of tablespoons (to your taste)
A dash of Salt - to temper the sweetness
Instructions
To make the dough balls, moisten the rice flour with water just until it sticks together. Roll the dough into ¼ inch balls.
Boil 6 cups of water in a pot, and when it comes to a rolling boil, gently drop the dough balls, stirring occationaly so they don't stick to the bottom of the pan or to each other.
Cook until tender or until they rise to the top. By the time they are cooked, the water should be slightly thickened also.
Add to this the coconut milk and let it come back to a simmer but not a rolling boil. A rolling boil will cause your coconut milk to separate, according to my mom.
You can also add about ¾ cup of the sugar and a dash of salt. When it comes up to a simmer, add the sweet potatoes and plantains (saba if you can find it) and cook until they are tender.
Add the tapioca pearls and adjust the sweetness to your taste.
Notes
If you can afford extra richness, you may serve this topped with additional coconut cream. Yumm!