For our Friday night fish dinner, I decided on soup for these "head-on" shrimps that are so hard to come by around here. These again are fresh Carolina shrimps I chanced upon at the grocery store. My girls and I love soupy dishes, and this was a welcome one, despite the heat. The Clone had her vegetarian meal since I still can't get her to eat any kind of seafood. I am proud to say, that all the vegetables for this dish came from our garden.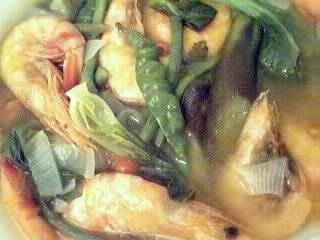 6 cups of water
1 small onion, sliced
1 cup of cherry tomato, halved
1 pound of shrimp with head on
2 small japanese eggplants
1/2 pound of long beans, cut into 2 inch length
1/2 pound of baby bok choy
2 fresh cayenne peppers
Tamarind Powder (Mama Sita's sigang mix)
Salt to taste
Bring the water to a boil and add the onions and tomatoes. Wait until it comes back to a boil, add the long beans as they cook the longest, and cook for a couple of minutes. Add the eggplants, shrimps, peppers, and bok choy. When the soup comes back to a boil, add the seasonings: tamarind powder and salt to taste, adjust as needed. Take off from the heat to avoid over cooking the vegetables.
I like to have a cup of soup on the side to start the meal. Yumm! Easy, eh?