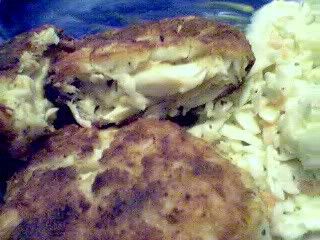 Time again to clean out the photo archive. I haven't been posting as much as I cook and the back log has started to build. Here is one that was buried in the archives, which is a favorite of my husband's. He loves crab cakes, probably because he doesn't have to bother picking through the crab, and just enjoy the meatiest parts. Myself, I like to play with my food, so any opportunity to get my hands slurpy lickin' good, is a good meal. My version is culled from several crab cake recipes, where I picked ingredients I like and to proportions I think will work.
To make these crab cakes you will need:
1 pound lump crab meat (I used Philips)
1 egg beaten
1/2 onion, chopped
2 cloves of garlic, minced
1/2 stalk of celery, minced
1 teaspoon Tabasco Sauce
1 teaspoon Worcestershire Sauce
2 tablespoons Mayonnaise
1 tablespoon Sour Cream
Salt & Pepper to taste
Bread Crumbs
Oil
I don't like having the onions & celery too crunchy, so I first sauteed the onion, garlic, and celery in a tablespoon of oil until they are tender. Let the mixture cool. In a large bowl, mix the sauteed mixture with the crabs, beaten egg, mayonnaise, tabasco sauce, worscestershire sauce, and sour cream. Season with salt & pepper and mix thoroughly but gently so the crab lumps do not break up. Form into cakes and dredge in the bread crumbs. If you have time, it helps to freeze the cakes slightly before frying. This will help them to stay intact. When you are ready to fry, heat some oil (enough to cover the bottom of your skillet – you're not deep frying) and brown the cakes on both sides.
Serve with your sauce of choice.