This recipe is derived from TingAlings Nilasing na Hipon (Drunk Shrimp), which is a variation of halabos na hipon which is shrimp basically steamed in it's own juice.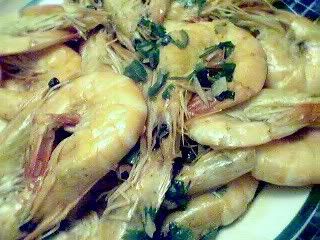 2 pounds of Fresh Shrimps
2 cloves of garlic, minced
1 teaspoon minced fresh ginger
1 tablespoon olive oil
1/4 cup dry white wine
2 tablespoons chopped flat leaf Parsley
Salt & Pepper to taste
Heat the olive oil and saute' the ginger and garlic until fragrant. Add the shrimp, toss, add the wine, cover and steam until cooked. Season with salt & Pepper and garnish with chopped parsley. Serve with steamed rice.