This recipe is derived from the Pinoy Cook with very little changes. It has become a regular at our house because it is quick and easy to prepare and because the flavor suites everyone's palate.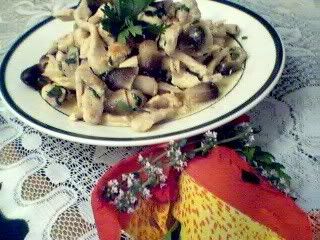 1 lb. boneless skinless chicken breast, cut into strips
2 cloves of garlic, chopped
1 large onion, sliced
1 can of Straw Mushrooms, drained
1/4 cup of butter
3 tablespoons of sour cream
Salt & Pepper, to taste
garnish with Flat leaf parsley, chopped
In a hot pan, melt the butter and lightly brown the chicken pieces. When done, remove chicken from the pan and saute' the garlic and onions until fragrant. Add the chicken back in, add the mushrooms and sour cream and season with salt and pepper to taste. Sprinkle with parsey leaves and stir quickly before serving.
Another 30-minute meal, including prep time!