We had a bag of dried fruits from Costco which was so large that we ended up having a bit of it left after the girls have gotten tired of munching on them or bringing them form their snacks. So I though I would try to use up some of the dried fruits for our bread pudding quest.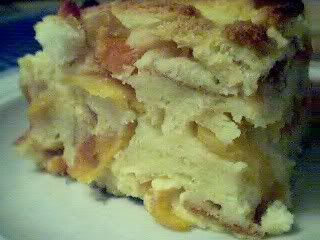 This turned out to be not so bad, and it did use up the fruits in other ways, and the girls welcomed the change.
1 cup chopped dried fruits (apples, apricots, pears, peaches)
4 eggs
1/2 cup condensed milk
1/2 cup sugar
2 cups milk
6 cups cubed bread
Mix all the ingredients together, pour into a buttered 9×13 inch glass pan and bake at 325 degrees for 1 hour and 20 minutes.